Specification
---
- 7.8 mm at widest point / 6.5 at narrowest
- 3.2 mm at thickest point / 1.4 at thinnest
- Roughly 8.4 g (silver) for US size 10
About This Ring
---
"Holistic Ring was conceived by Bram Cohen. He decided to come up with a design which had a nice holistic finishing move, where all the bands came together at the same time. This made this puzzle quite hard to solve for a four-band puzzle ring. The puzzle was first prototyped by Oskar van Deventer in 3D-printed plastic and metal."
Because I am interested in the field of 3D-printed puzzle rings (which we will be offering in the not-too-distant future), some time ago I took the opportunity to buy a stainless steel one from Oskar's shop on Shapeways. The technical problems that Shapeways encountered with such prints lead them to eventually decline further orders of this ring.
As you can see, the print was not exactly user-friendly, so Oskar's sales of this item never reached any great heights :(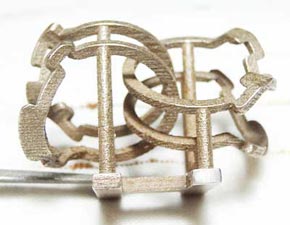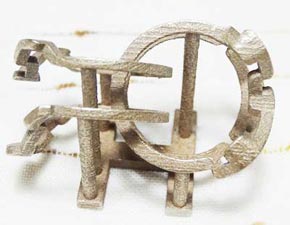 Once I had rendered it wearable it was my ring of choice for a long time, so when the time came to make my own version I used Oskar's ring as my inspiration. Unsurprisingly, my version looks very similar to his.
Bram has kindly given me permission to produce and sell on my website as many of his rings as I like. So far the 'Bram Collection' consists of only Sixth Sense, Threesome and Holistic, but Weave Five, Weave Six, Six To Three and Take Five are already waiting for their turn in the spotlight. Others may follow.
The ring shown in the photos is US size 13.